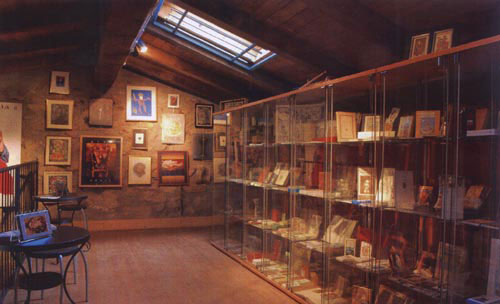 I appreciate the wonderful Tarot decks U.S. Games is donating to the Tarot Museum in Italy, as well as this opportunity to share about how it came to be that I find myself bringing a suitcase laden with decks and a merry band of Tarot travelers to bella Italia this fall…
It all began at the tail end of the last decade when my husband Michael and I went on two consecutive tours to Northern Italy with the late, great Brian Williams (creator of many wonderful decks including the PoMo Tarot and Renaissance Tarot; both published by U.S. Games). Brian Williams studied art, history and Italian at U C Berkeley and also attended the Universitá degli Studi in Padua. He was well versed in the language of art and beauty and had a way to enchant even the most jaded heart with his colorful descriptions and poetic musings. On one such tour with him we had the opportunity to spend a day with Osvaldo Menegazzi in his delightful Tarot shop il Meneghello. I felt an instant kinship with Osvaldo; connecting with his incredible array of metaphysical art and his charismatic personality. Over the years Michael and I visited Osvaldo many times, eventually creating a website to showcase his art and extraordinary contributions to the preservation of Tarot deck history: www.arnellart.com/osvaldo/index.htm
Then a few years ago Morena Poltronieri of Museo dei Tarocchi (Tarot Museum); contacted me (thanks to our mutual friend Osvaldo Menegazzi). I was intrigued by the Museo website and their beautiful special edition Tarocchi also caught my fancy. Seeing glimpses of the mysterious Tarot Museum captivated my imagination with a dream to visit there. Morena invited me to host LiteraTarot America, a collaborative Major Arcana deck. I invited 21 of my closest Tarot artist friends and it became one of the most fulfilling experiences to coordinate this project. In 2007 Michael and I hand carried the 22 original artworks for the deck to the Museo and finally got to meet Morena Poltronieri and her business partner, Ernesto Fazioli. We spent blissful days in their warm company and hours exploring their incredible museum, a truly magical and inspiring place. Museo dei Tarocchi is in a stone building over 400 years old which Ernesto and Morena painstakingly restored. There are tree trunks that part to reveal hidden shelves of Tarot and tiny doors with lit windows hidden in the stone walls which open to show off precious miniature artworks. Unusual sculptures, paintings, stain glass art and countless international decks populate the large, three story museum, from the rare and obscure to the most prized and popular works. We traveled the Italian countryside together with Morena and Ernesto who are licensed tour guides, while they shared many fascinating places of Tarot relevance. We knew that Brian Williams would have adored them as much as we did and would have wanted to share their museum on his tours had he been given the chance. When we returned home I continued to work with our friends at the Tarot museum on many projects and in my down time made a mini website showcasing their many contributions: www.arnellart.com/museodeitarocchi/home.htm
All the while in my heart was a growing desire to keep Brian Williams' dream alive of conducting tours to share Italian tarot art history. But I was aware that I did not posses the dynamic personality, nor the necessary gravitas to carry out his mission. Then suddenly we realized we could combine the places Brian had so passionately shared with us together with our friends from the Tarot museum who were seasoned tour guides and well versed in Italian art history (thereby taking the pressure off of me to be brilliant, with the hope that I could work on the being charming part; and failing that; try channeling Brian Williams).
With an outline of the tour in mind we tested the waters and found there were plenty of people who regretted missing out on the earlier trips and were excited about the planed adventure. Tarot luminaries such as Mary K. Greer, Lyn Olds, Fern Mercier and Jean-Michel David not only wanted to join us this fall but also helped gather an international group of 34 Tarotists from 9 countries.
So in honoring the legacy of Brian Williams we will quite literally follow in his footsteps and lead a merry band of Tarot travelers for twelve days through the magical birthplace of Tarot in northern Italy.
Don't miss Tarot Art History Tour of Italy in a Nutshell coming this Wednesday.
You can learn more about Arnell and her art at Arnell's Art.